You will probably want to capture every important moment on film from the start of the day to the end of the day.
Start of the day
Having said that you may not look your best, the very first thing in the morning and depending on the number of bridesmaids you have, you might need to start your bridal preparations for hair and makeup very early in the morning. I'm not there to film a before and after comparison, although I have seen some remarkable transformations over the years happening in front of my eyes and I can see why the bridal preparations are so worth it. Ideally, I would like to film the finishing touches both for you and your bridesmaids.
That means that I don't need to arrive at the hotel or house where you are having your bridal preparations until midway through the session. This way I will probably arrive when some bridesmaids are finished having their hair done and some haven't. I'm quite happy sitting around on the edge of the room waiting for a moment when I feel I can get some good clips of film. I also have plenty of time to take some gorgeous looking stills.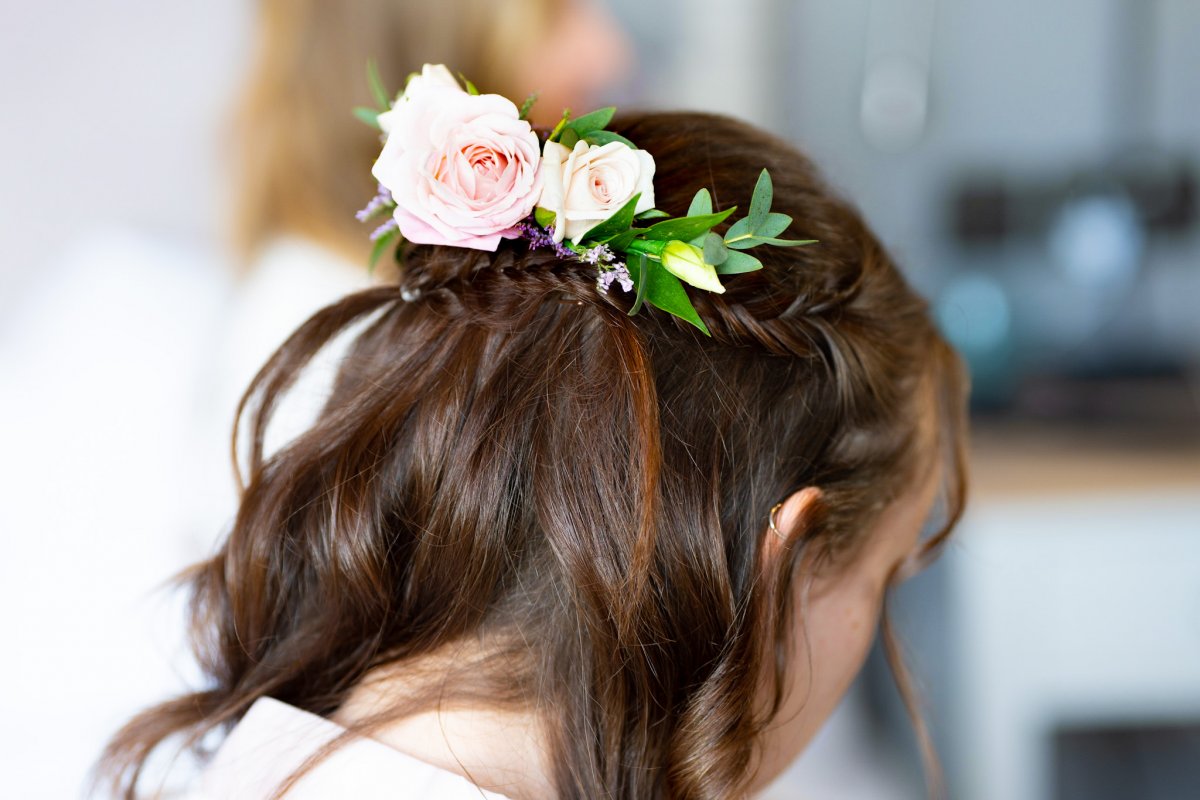 The sorts of things I am looking for are:
Hair braiding
Hair accessories being added
Hair spraying
Lipstick being applied
Eye make up being added
Veils being tried on
Filming and photographing the dress hanging up
Champagne or fizzy drinks being poured and consumed
Toasts being made
Wedding gifts being distributed
Personalised wedding items
Flowers arriving
Posed group shots when your photographer arrives
Of course, there may be other things happening that will make for a great introduction to your wedding video which I will be on the lookout for but I am not going to try and direct you as such. I know you are on a time limit to get ready.
If I get the chance to be there with the groom and groomsmen as well then the same applies. It's the finishing touches that I am looking to film:
The ties being tied and straightened
Checking the look in the mirror
Raising a glass
Matching shoes, or socks
So I would talk to you in our initial meeting (online these days) and try and get a sense of when would be a good time for me to arrive given that I would like to be there midway through the bridal preparations. It's often around 9 am but it's completely flexible for me.
The middle of the day
It goes without saying that I am there for the ceremony, the photoshoot, the wedding breakfast speeches and anything else that happens in the middle of the day. I won't be leaving the venue.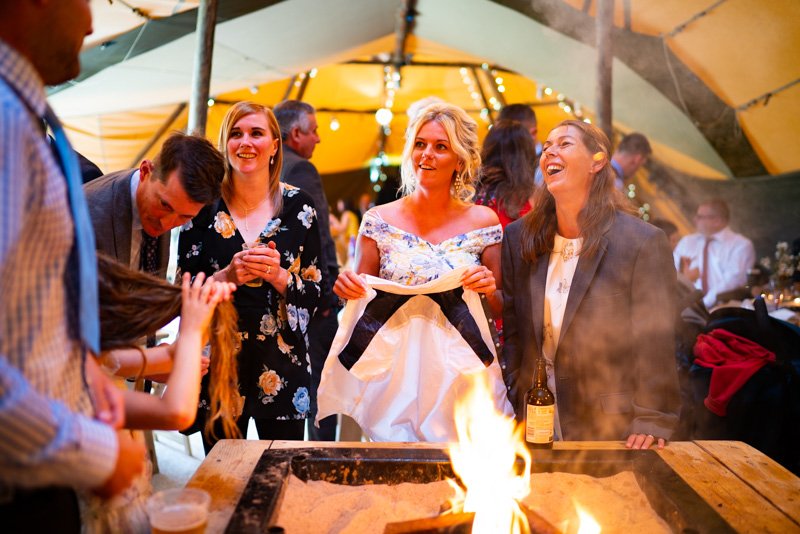 End of Day
At the other end of the day, things often start to get a little bit fuzzier timing wise. In my experience, there are two things that almost always happen on time; the ceremony and the serving of food. The rest of the plan can drift without causing too many issues so don't fret if you've planned for the cake cutting and first dance at 7.30 pm and it doesn't happen until 8 pm for example. As far as I'm concerned and I am sure that most of the other suppliers attending your wedding will be the same, we are used to things drifting off plan a little, especially towards the end of the day.
I usually plan to leave shortly after the first dance. If you think that there may be other things happening after your first dance that you would like me to film then please let me know when we have our online meetup.
In my head, I am probably going to be there until 9 pm so I plan my food and travelling around a 12 hour day. That's partly why I prefer to work within one hours drive from York, two hours max. Any further and I'm starting to think about charging for a hotel room overnight which just adds to your costs.
So, if by any chance you are hiring a videographer who charges by the hour, you might want to consider these factors.
From me, you will get a fixed price for the day's filming assuming a 12 hour day plus travelling time so for me potentially a 14-16 hour day.
That price will also include the cost of editing and processing which usually works out for me at two days (with more normal hours) work which can be spread out over the next week or so. If you are going away on honeymoon, I usually try to get the full video ready for the day after you come back so that you can continue to enjoy the experience as soon as possible. I cannot guarantee this turnaround as it depends on my availability but it's something I often achieve.